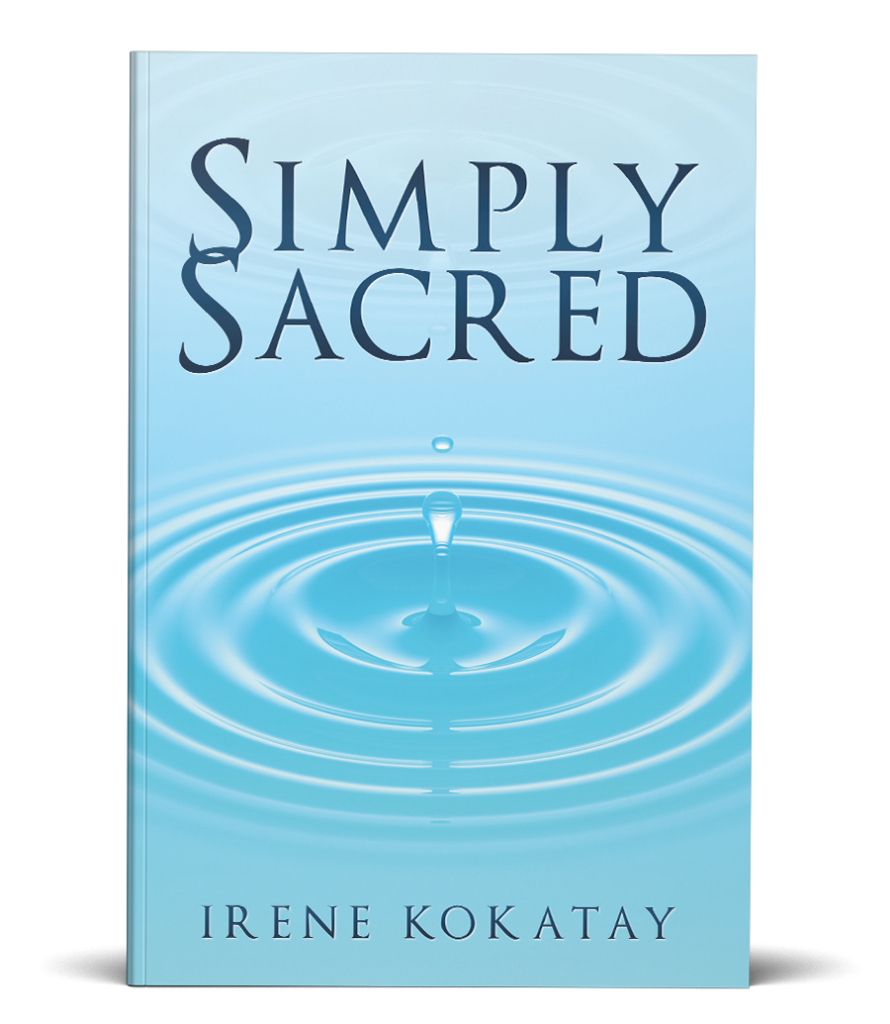 ISBN 13 (SOFT): 9781982214524
ISBN 13 (HARD): 9781982214548
ISBN 13 (eBook): 9781982214531

Simply Sacred
BALLISTIC MISSILE THREAT INBOUND TO HAWAII. SEEK SHELTER IMMEDIATELY. THIS IS NOT A DRILL.
That was the text message sent on January 13, 2018 to every mobile phone in Hawaii by the Hawaii Emergency Management Agency. Author, Irene Kokatay's heart stopped as she tried to process the fact that she was about to be vaporized. After 38 surreal minutes a second message informed the people of Hawaii that the warning had been sent in error.
Imagine how you'd feel if you knew you had less than an hour to live. There's nothing like being faced with your own mortality to jolt you into the here and now.
But what if you could live here and now in your day-to-day life?
Perhaps, like the author, you also wonder who you are, how you got here, and how to make sense of the mystery of death? Many of us are experiencing an urgency to wake up, to live more fully in the here and now, and to stop taking our lives for granted.
Those of us who are spiritual seekers know there is something more to life, something just out of reach. You may feel disconnected or incomplete, but sense an intrinsic wholeness at a deeper level of your being.
Simply Sacred explores the deeper questions of life and death.
Through stories, insights and contemplations inspired by years working with death and dying as a hospice counselor, and extensive travels in India studying the wisdom of the East, the author guides you toward an ever-deepening experience of what it means to be human.
Simply Sacred is more than a book–it's a spiritual journey of awakening to greater authenticity, joy, and inner peace right here and now in your everyday life. Simply Sacred is for you if you want to:
Experience a spiritual awakening
Embrace the lessons and gifts of facing mortality
Tap into the power of presence in everyday life
Surrender to the flow of life
Deepen your spiritual practice
Connect to your higher life purpose
Experience profound spiritual and personal growth
Discover your innate happiness
The anecdotes and spiritual teachings in Simply Sacred offer guidance, inspiration and knowledge to those on the path of self exploration. Some of the topics you will explore include:
Sacred wisdom teachings from Eastern spirituality
The power of living in awareness
How to see loss and suffering in a new light
Ways to experience the sacredness in everyday life
The importance of breaking free of drama
Common traps and misconceptions on the spiritual path
The transformative power of ritual
How to live in alignment with Nature
Ways to open to your deeper, more expansive self
The power of living more fully in the here and now
The unexpected gifts of grief and heartbreak
How to view death as a gateway to awakening
The role of devotion on the spiritual path
And much more
"A Heartfelt Book Probing the Meaning of Life" -Kirkus Reviews
In these challenging but exciting times, many of us are experiencing an urgency to wake up to a fuller expression of who we are, to experience the sacredness contained in the everyday moments of our lives, and to contribute to life in a meaningful way. Join Irene Kokatay on a rich voyage into the heart of life starting from right where you are.
---
---
KIRKUS REVIEW
"A heartfelt book probing the meaning of life in intriguingly nondenominational terms, creating from multiple spiritual traditions a more general conception of sacredness in everyday occurrences." "A broad and engaging guide to a deeper personal philosophy." ~ Kirkus Reviews
To read the full review visit:
https://www.kirkusreviews.com/book-reviews/irene-kokatay/simply-sacred